Cecile's Story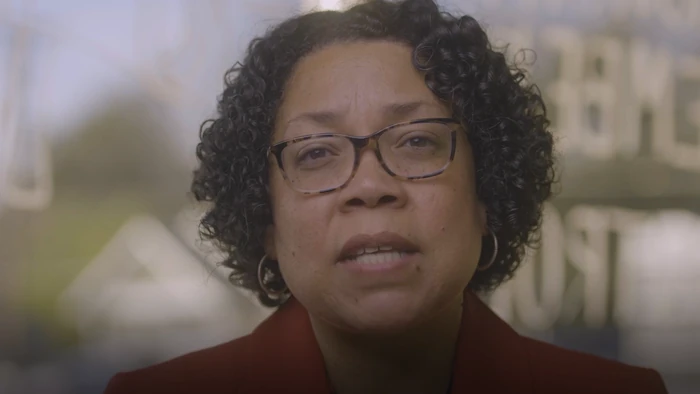 I'm Cecile "CC" Crawford, and I am running to be your District 2 Greensboro City Councilperson.  I grew up on Pearson Street, in Greensboro's Douglas Park in a home with my mom and grandparents. They each instilled in me the values of integrity, compassion, education, and hard work.
I earned a BA from NC A&T and a second BA from UNCG. I have two wonderful grown daughters, and I work as a sales support manager at a national marketing tech firm with an office in Greensboro.  I have been a party precinct officer, and was a Bernie Sanders delegate to the Democratic Party National Convention in 2020.
As a young woman I was faced with the challenges of single parenthood and the obstacles of serious illnesses.  These hardships made it very difficult to find affordable housing free from toxins and pests, healthcare I could pay for, reliable childcare, fully funded schools, transportation to and from work, and wages that allowed me to provide for my family. Like me, too many of us in Greensboro are just one serious illness, injury, or financial emergency away from debilitating debt.
---
Endorsed by: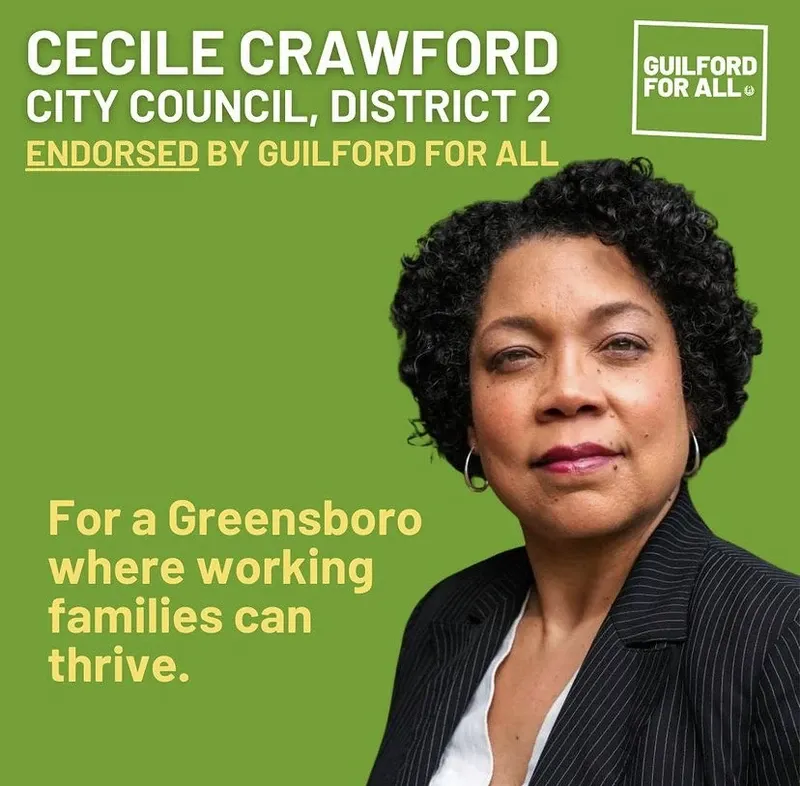 ---
Issues
As your representative on the Greensboro City Council, I will work every-single-day to make your ideas and concerns a top priority for city leadership. I am committed to fighting for these Big 3:
Wages We Can Live On
Access to jobs with livable wages and equitable support for small businesses.
We must agree that $15 is the bare minimum wage
Ensure all city workers are paid a living wage, and compensated for their years of service, experience and gained skills
Support small business creation, as well as helping established small businesses grow and thrive. We have to recognize that a trickle down economy doesn't work. We must build our economy with local businesses that have ties to, and roots in the community.
Must guarantee that our ex-felons are truly allowed a second chance, and remove barriers from employment, or business ownership
We must address the need for employer sponsored child care. The city must aid and support employers that offer their employees access to gold star infant care to Pre-K. Incentivized companies could offer employees tuition discounts and priority slots at nearby child care centers. Could also offer backup care and flexible hours for working parents.
With the Greensboro 2040 plan for housing, we need to offer Black and Brown women trade school opportunities in construction, trucking, and as supply chain vendors

I remember there was a time when I was struggling with affordable childcare. I was working at night to pay the daycare, so I could go to school. I was paying a babysitter, so I could work the night job, and pay the daycare. I finally received a childcare voucher, but if I worked any extra hours to help pay more of my living expenses, I ran the risk of losing my voucher. I was also spending so many hours away from my children, I was noticing some behavioral issues. I had to make a decision. I chose to delay further education for myself and took a job at a rehabilitative daycare. That way I could work and spend time with my children. Childcare is one of the many barriers that women face when trying to increase education and reenter the workforce.
We need to ensure that everyone makes an equal and livable wage, paid well for their skills and experience, allowed access to funding for business creation, and has access to training or education for upward mobility.
Homes We Can Afford
Offering increased opportunities to home ownership. Protecting mobile home parks. Renting comfortable homes we can afford.
Fully fund legal eviction defense fund and Right to Counsel
Implement options for First Right of Refusal, Land Trusts, and Apartment coop ownership
Address the need for RUCO (rental unit occupancy certificates)
Protections against voucher rental discrimination
Support second chance housing for those with evictions, or criminal records
Reimagine the Receivership program

As a cancer survivor, I have been in the awful position of struggling to survive and restore my health in the midst of a forced move. I know how it feels to be worried you and your children may be homeless, and not knowing how you will afford to move or pay higher rent. Thankfully, my community, my coworkers and family joined together to offer us assistance with moving costs and housing.
Your elected officials have an obligation and an opportunity to continue forward momentum on creating affordable housing, while working to preserve, restore and augment current cost-effective housing. I'm running to represent my district on city council because I plan to fight for every Greensboro resident's right to permanent, secure housing from childhood to the geriatric years that is free from toxins, mold, or pests.
Safe Communities We Can Live and Thrive In
Exceptional public safety in a secure and clean environment for everyone in Greensboro.
Stop criminalizing mental illness. We can work to implement a CAHOOTS style mental health program that takes mental health crisis calls and routes them to an outside provider. We must amplify the need for Medicaid expansion to the state and federal government to better support clinics and the treatment for those who fail to receive necessary services due to lack of healthcare insurance.
Stop criminalizing addiction. We must take rehabilitation and counseling for all Greensboro residents seriously.
Public funding for after school care options in an effort to help children receive tutoring, intro to STEM, Home Economics, and Intro to Local Government
Increase funding for violence intervention and mediation programs
Environmental concerns.
Implement water filtration upgrades and reduce toxic chemicals in our city water
Keep water affordable and managed by the city, not private companies
End clear cutting in favor of repurposing vacant spaces
Plan for better response to natural disasters caused by climate change, and impending climate refugees
---
Donate Through ActBlue:
My Promise
As an elected official, I will continue to push our state electeds to expand Medicaid and take seriously the tremendous cost that insufficient healthcare brings both to our city, and the most vulnerable in our communities. I will also ensure that all levels of government that affect our community, prioritize affordable and accessible public transportation.
As your City Councilmember, I know — without doubt — that the people closest to the problems have the best solutions. It is through working together, that I believe we will achieve the best results.
As an amazing mentor once told me when I questioned him on how we affect change for working people, "Put People First! Lift up the people, and the people will lift up the entire city." Let's build a brilliant future for all in Greensboro, together.
---
Join Us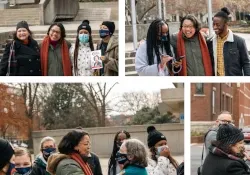 Volunteer
Get a Yard Sign 🪧
Dinner in the Park June 17
Join us at Woodmere Park at 2100 Autumn Drive Greensboro, NC 27405 for free food and fellowship on Friday, June 17th at 6:30pm. We look forward to meeting you and hearing about your vision for our community. Former District 2 candidate, Portia Shipman, will be joining as our special guest speaker!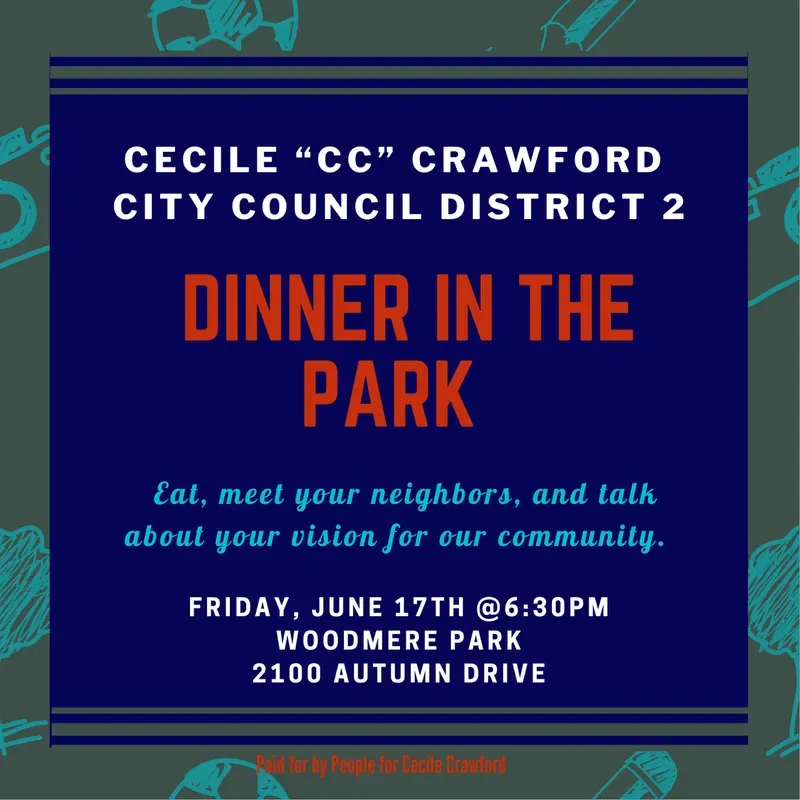 CC's Cookout on Mar. 26
Join us on 3/26 for a community cookout to meet & greet Cecile "CC" Crawford. She's looking forward to getting to know her District 2 community on a deeper level and wants to hear your hopes and concerns for Greensboro. Meet us in the field near the South Village Community Clubhouse at 4302 Reedy Fork Parkway, Greensboro, NC 27405. A special thank-you to our host: Felicia Angus!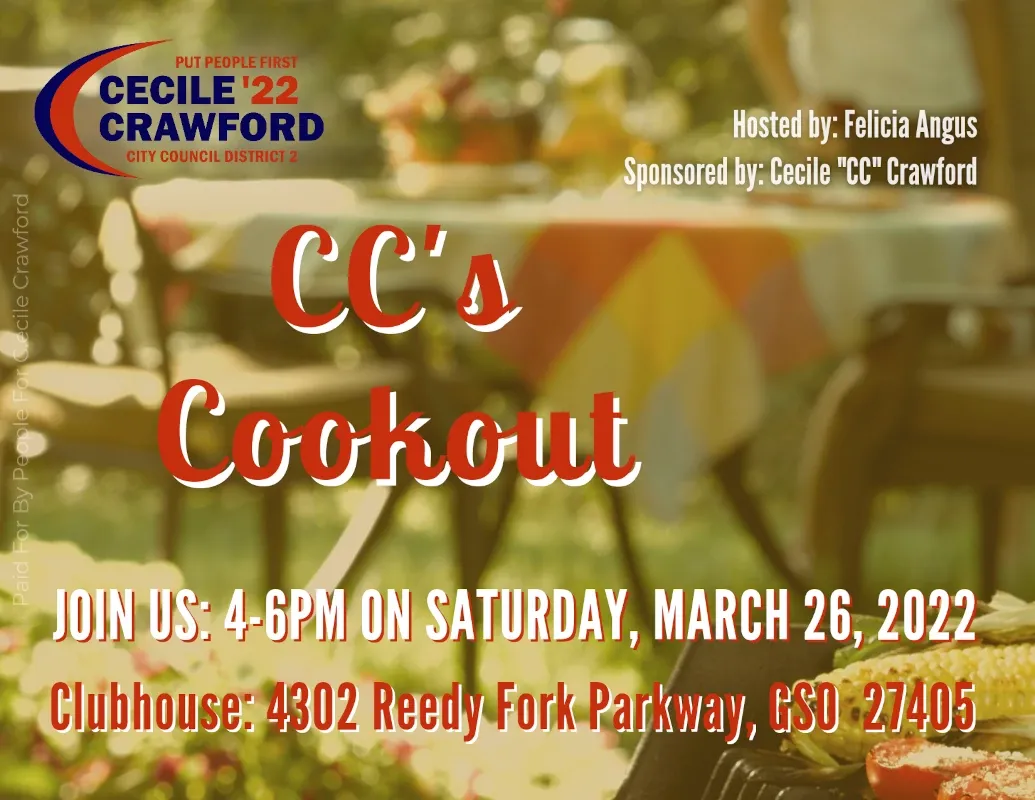 Community Gathering on Feb. 25
Please join us from 7-8:30pm on February 25th to meet Cecile and learn more about her vision for Greensboro and District 2. The event will be at the Community Theater of Greensboro (CTG) at 520 South Elm St., Greensboro, NC 27406. There will be a complimentary catered dinner and cash bar. Masks are required at the event.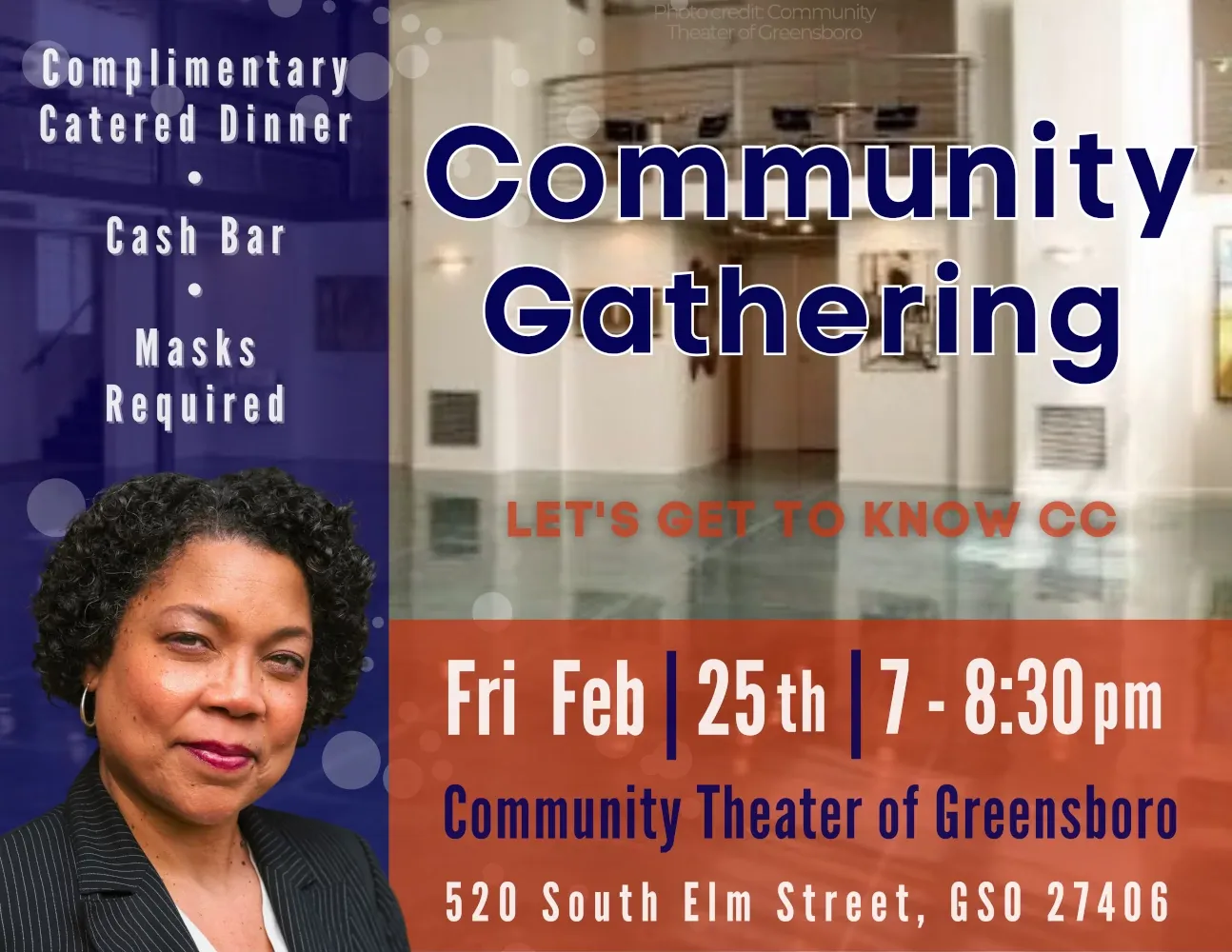 ---
Vote for Cecile
District Map
Find your city council district here. This map is provided by the City of Greensboro, and is searchable by address. Anyone living in Council District 2 can vote for Cecile in the upcoming election.
Register to Vote
Find out your voter registration status and information on how to register or update your voter registration by visiting the NC State Board of Elections site here.